Libby's Low-sugar Pancakes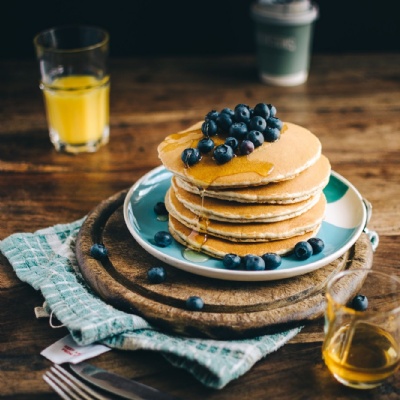 Head of Catering, Libby Anderson, shares her secret reciepe for the best tasting pancakes ever...
Banana Oatmeal Pancakes
Prep Time
5 mins
Cook Time
15 mins
Total Time
20 mins
Healthy Banana Oatmeal Pancakes made with only 7 ingredients - oats, almond milk, banana, eggs, egg whites, baking powder, salt, and a touch of real maple syrup. Sugar-free, oil-free, gluten-free, and dairy-free pancakes.
Course: Breakfast
Cuisine: American
Keyword: healthy pancakes
Servings: 10
Calories: 85 kcal
Author: Melissa Stadler, Modern Honey
Ingredients
1/2 cup Almond Milk unsweetened
2 Eggs
1 Egg White
1 Banana
2 Tablespoons 100% Real Maple Syrup
1 1/2 cups Rolled Oats (I use Gluten-Free)
2 teaspoons Baking Powder
1/4 - 1/2 teaspoon Salt
1 teaspoon Vanilla optional
Toppings Ideas:
Fresh Berries
Real Maple Syrup
Chocolate Chips
Fresh Banana Slices
Sliced Almonds
Instructions
In a blender, pour in SILK Almond Milk, eggs, egg white, banana, maple syrup, vanilla (optional), rolled oats, baking powder and salt.

Blend until smooth.

Heat skillet over medium heat. Once warmed, spray with non-stick cooking spray or place coconut oil or butter in skillet. Pour pancake batter into skillet in round circles.

Cook for 2-3 minutes on one side. Turn over and cook for another 1-2 minutes.

Drizzle with real maple syrup and toppings of choice.