Let's Cook!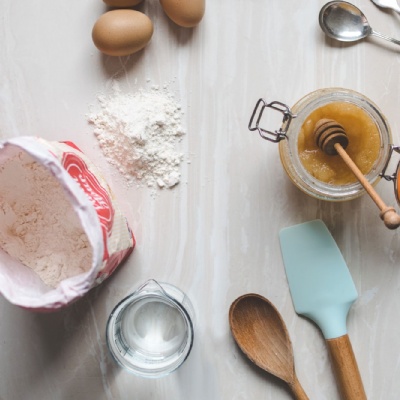 This week Mrs Ironside shares her recipe for Raspberry and Almond Slices.
Each week, we are inviting staff, parents and carers to share their favourite recipes or their new culinary discoveries.
Click here to upload your recipe or use the form at the end of this page.
This week, Mrs Ironside has kindly contributed a delicious recipe for raspberry and almond slices.
Mrs Ironside's Raspberry and Almond Slices

These lovely tray bake bars remind me of my mum, she loves to bake and has always got a 'something nice' tin available whenever I go and visit with different homemade cakes/biscuits in. The almond slices were my favourite. My children still ask if they can have something from the 'something nice tin' when they see Granny :-)
Ingredients
A pack of ready rolled shortcrust pastry
170g granulated sugar
110g butter
1 beaten egg
1 tsp almond essence
170g porridge oats
28g flaked almonds
1/2 jar raspberry jam
Method
Heat the oven to 200 degrees, Gas 5, fan 170

Place the flour and butter into the bowl of a food processor.

Pulse until the mixture resembles breadcrumbs. Slowly add the water a little at a time until the mixture comes together in a ball. Wrap the pastry in cling film and place in the fridge for 30 mins.

Grease a baking tray and line the bottom with baking paper.

Melt the 4oz of butter for the almond topping in a pan over a low heat, add the sugar oats, egg and almond essence. Set aside.

Roll out the pastry on a floured surface and line the baking tray with the pastry including the sides.

Spread the raspberry jam over the base of the pastry.

Pour the warmed butter and sugar mix over the jam and level with a knife.

Sprinkle over the flaked almonds.

Bake for approximately 25 – 30 mins until golden brown on the top.

Slice into 12 pieces when cooled.
Recipe attributed to www.mrsdarlingtons.com. Please click here to view the website and see more details.
The Finished Results!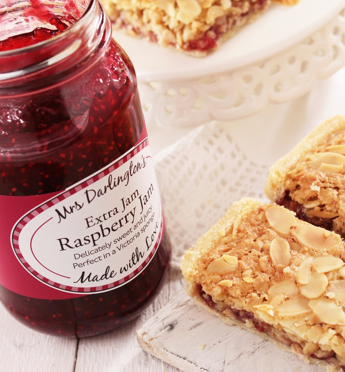 Recipe photo by https://mrsdarlingtons.com
Thumbnail Photo by Calum Lewis on Unsplash
Share your recipe!