National Playday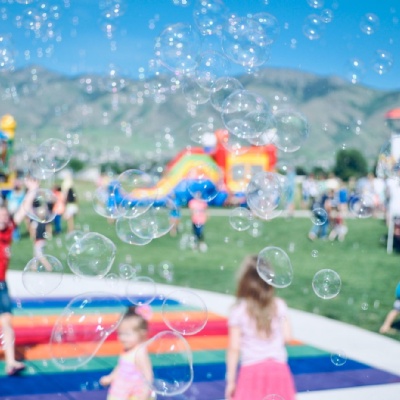 National Playday takes place on the first Wednesday of August. It highlights the importance of play for children's mental and physical health, and well-being. This year it will be held on Wednesday 4th August.
What is National Playday?
National Playday was established in 1986 in response to potential threats to funding of playgrounds and adventure play areas in London. It has grown into a nationwide celebration of play.
On the Playday website it says:
Playday is the national day for play, traditionally held on the first Wednesday in August. It is the biggest play sector event in the UK, and possibly Europe! As well as a celebration of children's right to play, Playday is a campaign that highlights the importance of play in children's lives. Playday is coordinated by Play England, in partnership with Play Wales, Play Scotland and PlayBoard Northern Ireland.
What is play and why is it so important?
Play is widely recognised as being essential for the physical and emotional growth of a child, for their mental, intellectual and educational development, and for enabling them to gain social and behavioural skills.
Playday describes play as...
...a generic term applied to a wide range of activities and behaviours that are satisfying to the child, creative for the child and freely chosen by the child.Children's play may or may not involve equipment or have an end product. Children play on their own and with others. Their play may be boisterous and energetic or quiet and contemplative, light-hearted or very serious.
The right of children to play was recognised in the United Nations Convention and ratified by the UK government.
Article 31 of the convention states that:
Parties recognise the right of the child to rest and leisure, to engage in play and recreational activities appropriate to the age of the child and to participate freely in cultural life and the arts.
Parties shall respect and promote the right of the child to participate fully in cultural and artistic life and shall encourage the provision of appropriate and equal opportunities for cultural, artistic, recreational and leisure activity.

United Nations
How can we get involved?
Encouraging our children to play, and playing with them, is something that we can enjoy any time. Playing boosts their mental health and wellbeing, and that of their parents!
If you would like to celebrate National Playday, however, here are some suggestions of how you can get involved:
Plan an event - Covid regulations permitting, you could organise a Playday event for your family or local community. Playday has tips on organising an event for you to read.

Celebrate Playday on a shoestring - playing doesn't need to cost the earth. Playday has plenty of ideas for how to celebrate Playday within a budget. It includes ideas that don't cost anything, for example using blankets and chairs to make a den and using washing up liquid, water and tarpaulin to make a water slide!

Play ideas for wet and windy days - we can't always be sure of having sunshine here in the UK, so Playday has lots of ways to make the best of our inclement weather. You could make mud pies or go stamping in the puddles!
Playday is a day to celebrate the mental health and wellbeing aspects of play. We hope you have fun whatever you decide to do.
Where else to go for support
If you have any concerns about your child/ren's mental health, you can get more information and advice by visiting chums.uk.com, the Mental Health and Emotional Wellbeing Service for Children and Young People.
You can also contact your child's class teacher to raise any mental health and well-being concerns by emailing office@owps.org.uk, using the website contact form, or emailing your child's year group (all the year group emails are listed here).
If you are concerned about your own mental health and well-being, you can read more about how to access further advice and support by clicking here to visit Mind's website.
Mind states that despite the pandemic, the NHS is still encouraging people to come forward for support with mental health and well-being, with the GP cited as the first port of call.
Photo by Adam Winger on Unsplash