New Dishes in the Dining Car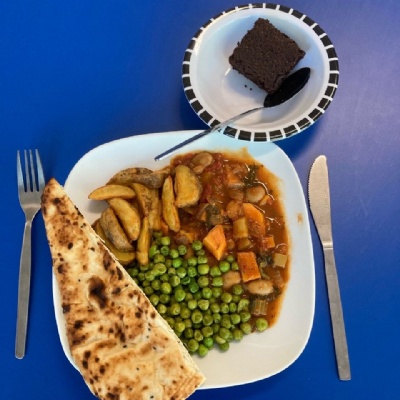 At OWPS, we are fortunate to have our own fully-functioning catering service that makes health and tasty food here on the school premises every day.
Children (and staff!) enjoy the delicious range of main courses and desserts on offer, and the Dining Car is always looking for new ways to improve the menu.
Since Mrs Anderson took on the role of Catering Manager in September 2019, ably assisted by the fantastic team in the Kitchen, the Dining Car has gone from strength-to-strength. Known to the children as 'Libby', she and her team have introduced a range of new menu options to entice the children to try something new.
Libby aims to encourage the children to try the new food, even if it just a sample on the side of their plate with the rest of their meal. There is no pressure for children to eat something they don't want to eat, but it is a chance for them to be adventurous if they wish.
Libby loves hearing the children's feedback and uses it to decide which menu options to keep and which to change. One child in Year 4 was inspired to try a vegetable samosa even though she wasn't sure about liking spicy food. Libby was delighted when the child came back to tell her: 'I liked it!'.
Libby plans to offer different meals on the menu for the children to taste, as well as including those familiar favourites that she knows the majority of children love. She also intends to introduce 'Well Done' stickers for those children who try something new.
Children are very welcome to have a hot dinner on any day of the week. We simply ask that you have topped up your account on parent mail in advance.
You can find a copy of The Dining Car's latest menu here, along with details of our food allergen advice.