Continuous Professional Development at OWPS - PIXL Training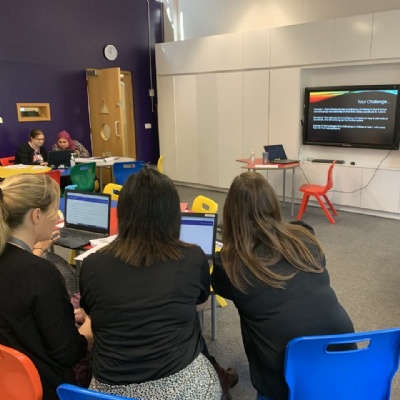 On Wednesday 20th October 2021, Mrs Simmons led a training session for Teaching Assistants at Orton Wistow Primary School on PiXL (Partners in Excellence).
On the 20th of October, Mrs Simmons led a Continuous Professional Development training session on PiXL (Partners in Excellence) to encourage all staff to take ownership of delivering therapies and interventions within the school.
T
The PiXL Club aims to support the promotion of excellence for pupils. One of the strategic approaches that PiXL promotes within everyday teaching is the effective use of data to sharpen the focus on the key gaps in students learning, and the implementation of specific personalised intervention for each pupil to enhance their development. This is achieved through what PiXL term DTT (diagnosis, therapy and testing).
All teaching assistants and HLTA's were present, allowing for an interactive session, listening to the importance of gap analysis in children's learning and ways to find therapies for scenarios to various class situations.
The benefit of this training will be that Teaching Assistants and HLTAs can deliver the targeted support needed by different groups of children. For example, if an assessment flags up the need for more practice on the past tense (in English) or adding fractions (in Maths), PiXL provides the resources for a focussed session to bridge the gap.