((Bounce)) Bambino Fun Fitness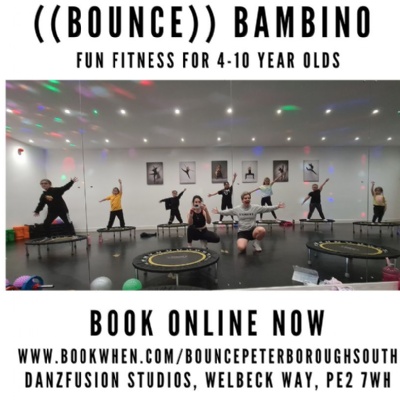 ((Bounce)) Peterborough are running fitness classes for 4-10 year olds and offering a half-term special deal. Please read on to see the information they sent us...
We are ((BOUNCE)) Peterborough and we would like to tell you about ((BOUNCE)) BAMBINO, our exercise class specially designed for kids aged 4 to 10 years old!
The obesity levels amongst primary school aged children has hit an all-time high, rising by more than 4 percentage points between 2019-20 and 2020-21 according to The National Childhood Measurement Programme.
Officials are warning of potentially devastating consequences as a result of weight gain during the pandemic, with increased snacking alongside regular meals and a lack of exercise and movement to burn off excess calories.
At ((BOUNCE)) BAMBINO we mix simple, choreographed moves to music with fun, energetic games. ((BOUNCE)) improves co-ordination, motor skills, encourages team work, and builds confidence.
Bouncing on a mini trampoline is not only fun and burns a lot of calories, it also strengthens heart and cardiovascular fitness and the cherry on the top is, it is a detoxifying exercise and boosts the immune system.
The figures show that almost one in seven children are already obese when they begin primary school in England. Among reception-aged children, those aged four and five, the rates of obesity rose from 9.9% in 2019-20 to 14.4% in 2020-21.
By the time they are aged 10 or 11, more than a quarter are obese, according to the NHS. Four in 10 children leaving primary school are at increased risk of serious health conditions.
((BOUNCE)) Peterborough wants to help children get fit and healthy and would love your support to spread the word about BAMBINO!
((BOUNCE)) BAMBINO takes place every Monday, 5.30pm to 6.15pm at Peterborough South, Danzfusion Studios, Welbeck Way, Woodston, PE2 7WH.
It's easy to book online at www.bouncefitbody.com and search for 'Peterborough South' or contact us via Facebook at 'Bounce Peterborough' for more information.
During the February Half Term we are running a special ((BOUNCE)) BAMBINO class on Monday 14th February at 10am at the reduced price of £4.95 with promo code 'BAMBINOLOVE'.
To find out more, please download the information below.