Library Corner - OWPS World Book Day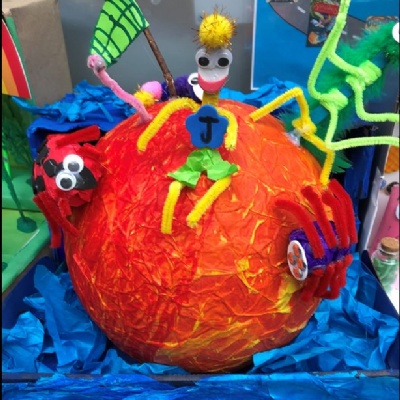 By Mrs Campling, Librarian
English Ambassadors' Account of World Book Day at OWPS - by Avie and Elissa in Year 6
On the 2023 World Book Day at OWPS, we had different costumes: from Harry Potter to Dork Diaries and many more amazing outfits. Many children made fantastic shoe box creations that were displayed in our school library. We were given book tokens to spend in many local shops.
When we arrived at school, we were given a challenge to create a special book mark, which was brightly coloured. Afterwards, we had different puzzles to solve, which were related to World Book Day. It was an amazing, enjoyable day, and we hope it will carry on through many more years!
World Book Day 2023 by Mr Sneeze (aka Mrs Campling)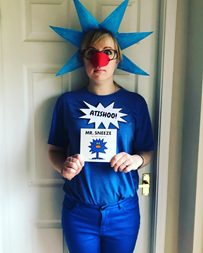 My World Book Day started by dressing myself and my two children in our costumes (Mr Sneeze, Supertato, and Ava from Squishy McFluff) and taking them off to their school. I then hot-footed it over here for a day full of bookish excitement - and it was VERY exciting!
First port of call was to pop in to each classroom to see all the fantastic costumes. I was so impressed by the variety of costumes I saw across the school, with some of my personal favourites including an owl in Year 2 and a panda in Year 5!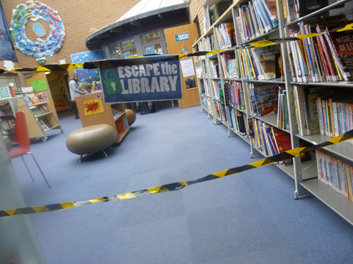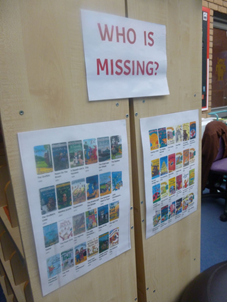 Then it was full steam ahead with the Escape Room: running for the last fortnight with every class visiting to solve the puzzles and find a secret password! Year 2 and the Wombats were the lucky ones who got to experience this on World Book Day itself and they rose to the challenge with gusto. At the time of writing, every team has escaped in under 20 minutes and has demonstrated exceptional teamwork as they tackle the clues. With a few groups still to go, I'm on the edge of my seat waiting to see which teams are going to take the Teamwork prize, and the Speed prize!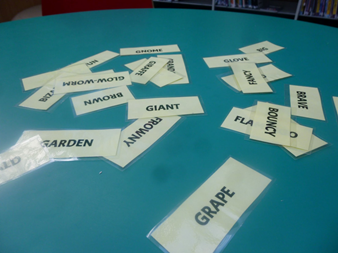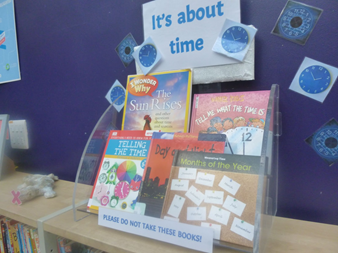 Years 1, 2 and 6 also accessed the Now Press Play resource for an interactive reading session, which certainly looked a lot of fun as I poked my head round their doors, and a great way to engage with texts slightly differently than usual. All classes thoroughly enjoyed taking part in activities around books, and of course doing plenty of reading!
As well as dressing up, many of the children decorated shoeboxes with scenes from their favourite books, and these arrived in the library steadily over the course of the day. The creativity and, in some cases, engineering in these absolutely blew me away - to the extent that I had to expand from a winner for each unit to a winner from each year group! These are featured below, and I'm sure you will agree they are all very deserving!
Shoebox Winners
It was incredibly hard to choose just one winner from each year group but these boxes stood out for either creativity, engineering, or ingenuity! These children will need to come and see me to choose their prize - a book, of course!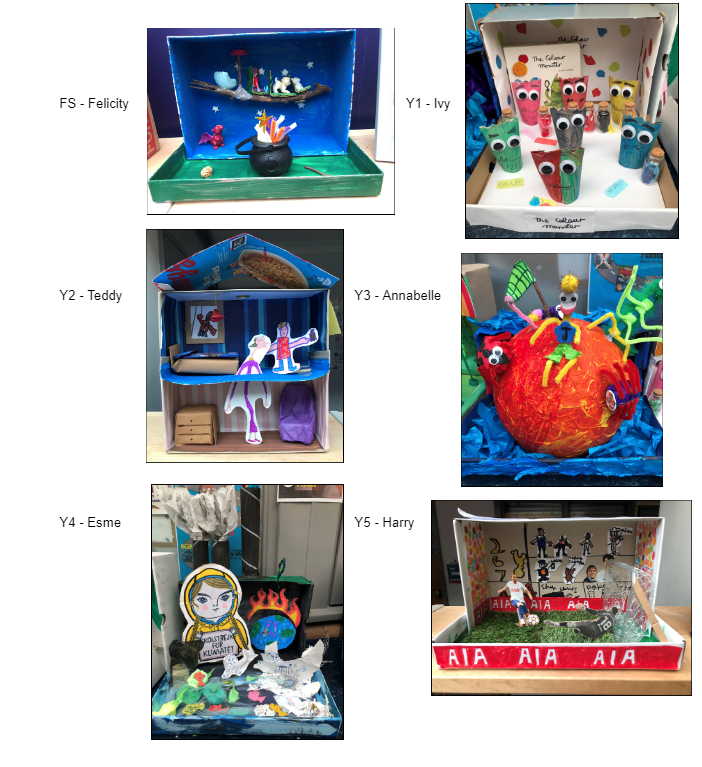 And Finally...
We must say a huge thank you to the English and Library ambassadors, who have been an immense help to me and Mrs Tansley in collecting shoeboxes, helping in the Escape Room, and ensuring that everyone received their book tokens - which is, after all, what World Book Day is all about! We are very lucky here to have a lovely library and access to a huge variety of books, but for many children that isn't the case. World Book Day provides them with the opportunity to own their own book, and the life-changing power of reading. A day worth celebrating!