Peterborough Music Festival 2017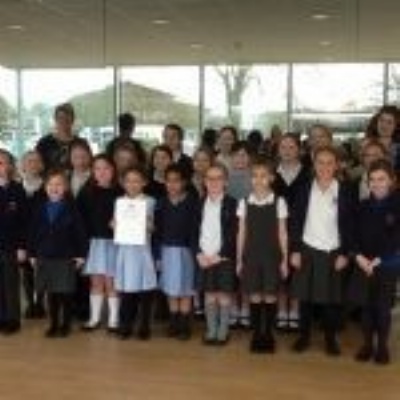 Friday 17 March, the school choir compete in the 2017 Peterborough Music Festival.
Friday was a nerve racking occasion for the twenty five members of 'Wistow Warblers', Miss Cameron and Mrs Ironside as we competed for the very first time in the Peterborough Music Festival. Tension was high as we arrived at the Key Theatre, not really knowing what to expect. We discovered that we were one of 8 different primary schools from Peterborough and the surrounding areas singing that morning. It all felt a little bit overwhelming, but we soon settled down in the auditorium and watched the other schools sing until it was our turn. We did a brilliant job of singing 'Happy' by Pharell Williams and 'When I grow up' from the musical Matilda. The adjudicators were extremely complimentary of our performancne and noted that we were the only school to have a soloist (well done Isabel!). I think we were all very relieved to recieve a Merit for our performance - and we now have some top tips for next year to make our performance even more polished and professional. The choir was a credit to the school, and the children should all feel extremely proud of their achievements. Well done Wistow Warblers!