Holi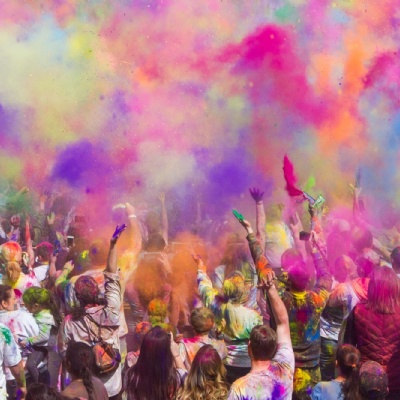 The Hindu festival of Holi is on the 28th and 29th March 2021.
What is Holi?
Holi is a joyful celebration of colour by Hindus around the world. The festival marks the end of winter and the beginning of spring. It is celebrated for two or three days. Families and neighbours get together to throw coloured powder (gulal) in celebration.
Why do Hindus celebrate Holi?
Holi is based on a legend about King Hiranyakaship:
Hiranyakashyap had a son, Prahlad. Prahlad was the greatest devotee of Lord Vishnu. Hiranyakashyap wanted to kill his son, so he called his sister, Holika. She had a magic robe. This robe had the power to save the wearer from burning in fire. Hiranyakashyap ordered his sister to sit on a burning fire along with Prahlad. He thought that his sister would not be harmed by the fire because of the magic robe and Prahlad would be burnt to death. But the result was the opposite to what the evil demon king planned. Prahlad came out of the burning fire safely and Holika was burnt to death.
Holi is celebrated with colours to mark the victory of virtue and goodness over evil. The main colours used are red (love and fertility), blue (the colour of Krishna), yellow (turmeric) and green (spring and new beginnings).
How are people celebrating Holi this year?
Due to the Covid-19 restrictions, Holi celebrations have moved online this year. You view the digital Leicester Holi at-home online celebration on Sunday 28th March 2021.

You might also like to cook some food associated with the celebration of Holi, including Peshwari Naan, Sweet Potato and Lentil Curry and Red Lentil Tarka Dal.

You can find out more information on BBC Bitsize What is Holi?
Photo by John Thomas on Unsplash