The Library Corner - October 2023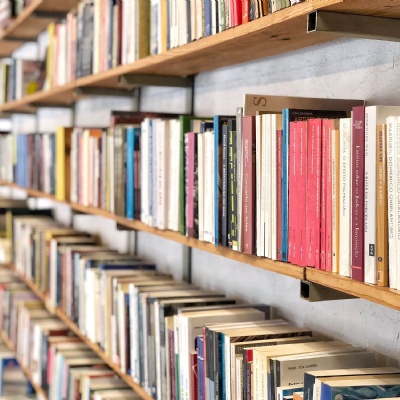 By Mrs Campling, Librarian
Well, it has been a very busy first half term in the library! Mr Marks was kind enough to let me loose in a whole school assembly where we had a whistle-stop tour of some of the lessons classes will be experiencing this year. He was dispatched to the library on a Fact Finding mission (to discover the inventor of the electric guitar) whilst Miss Tansley demonstrated a timed Synonym Challenge and Miss Carters took to the Hot Seat to tell us about one of her favourite childhood books, Charlie & the Chocolate Factory. Having given everyone a taste of what's to come, we launched right in with library orientation lessons for every class - from Foundation all the way to Year 6 - to help learn what is in the library, where it can be found, and how to show our respect to our fantastic collection of books.
Session two this year has been Book Hot Seating, where somebody takes to the Hot Seat to tell the class about their favourite book and allow the class to ask as many questions as they can think of! I have been really impressed with how passionately the children have talked about the books they love, and how innovative some of the questions have been. The Nighthawks in particular got very into the activity and even continued it in class afterwards! We also had some fantastic reasons for choosing favourite books, including "it makes me laugh", "it's very adventury" and "because I read it with my dad and I love spending that time with him".Why don't you give it a try at home?
We've also got Story-Writing Club off to a great start, with a real mix of returning faces and new ones which is lovely! So far we've been working together to think about plots and characters, and after half term will be getting started on our own stories. I always love to see what brilliant, imaginative ideas come out in this club.
Mrs Campling's Book Hot Seat
My favourite book is: The Hitchhiker's Guide to the Galaxy
This is roughly what happens: A man called Arthur wakes up one morning to the discovery that the planet is being demolished and his best friend is actually an alien. They hitchhike off the planet and travel through space, joining up with the President of the Galaxy to discover a long-forgotten planet.
I love it because: It's completely absurd and makes me laugh! I've loved it since I was about 11 and it is definitely a comfort book for me. I also love the way Douglas Adams, the author, uses wordplay to create humour.
Some of the questions I've been asked!:
What is your favourite part? When the spaceship is under attack but none of the systems are working because Arthur has asked it to make a cup of tea!
Is it only one book or is there a series? It is a 'trilogy in five parts'! Who is your favourite character? Arthur, because he's a little bit grumpy and he just wants a cup of tea. Also he travels the universe in his dressing gown which seems like comfy space-wear.
What other characters are there? Ford Prefect, an alien; Zaphod Beeblebrox, President of the Galaxy; Marvin, a depressed robot; the Vogons, an unpleasant alien species who demolish the Earth; Trillian, a human female.
Library Ambassadors
This year's library ambassadors are Imaan, Alexandra, Rumaisa and Florence. They've already been busy creating displays for the 'Ambassadoor' showcasing some of their favourite books, and helping process new stock ready to go out after half term! They did a fantastic job keeping the library looking spic and span while I was off ill and are full of brilliant ideas. Thanks team!
Recommended Reads
As mentioned, we've lots of lovely new books ready to go out after half term. Here are a few of my recommendations from the box!
Ten Word Tiny Tales by Joseph Coelho This absolutely GORGEOUS book is made up of double-page spreads, featuring just ten words on each that tell a story. The illustrations are inspired by the words but may not be what you'd expect! Each spread can be used on its own to explore the world that's been shown, or used as story prompts for creative writing - or even just to spark the imagination!
Real Pigeons Fight Crime by Andrew McDonald
Just as daft as it sounds - this book features a squad of crime-fighting p
igeons, led by Rock, "the feathery master of disguise". They solve mysteries, like: why have all the breadcrumbs disappeared? Who is kidnapping bats? And can the Real Pigeons avoid a dinner disaster?
This was a huge hit with my eldest (currently in year 3) and comes highly recommended by him too!
The Serpent of the Sands by Vashti Hardy
Book four of the Brightstorm Chronicles, Serpent shifts the narrative away from the Brightstorm twins onto secondary character Gan, princess of a desert kingdom. When her uncle falls seriously ill, she sneaks out of the Citadel to find a cure, and a mythical sapient creature thought to have long disappeared. This series is absolutely fantastic and whilst initially I was disappointed to not be reading more of the Brightstorms' adventures, I was soon just as engrossed in Gan's story. Best for UKS2.
Library Twitter Account
Don't forget you can keep up to date with what's happening in the library, as well as bookish news, by following @OWPSLibrary on twitter.
Photo by Alexander Wende on Unsplash