How To Help With...Sleep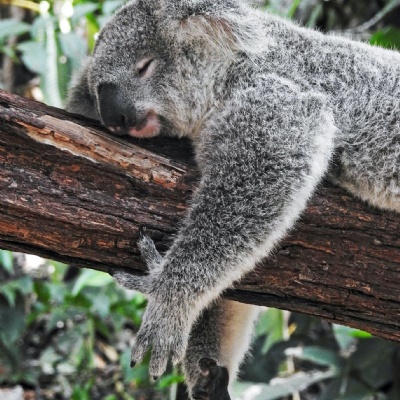 This week we explore how our mental health is linked to having a good night's sleep.
How is sleep linked to our mental health and wellbeing?
A lack of sleep can have a spiralling effect on our mental health. When we're tired, it can make it difficult to cope with daily life, which can affect our self-esteem and cause feelings of stress or worry, which in turn leads to even more sleepless nights.
Lack of sleep can become a vicious circle: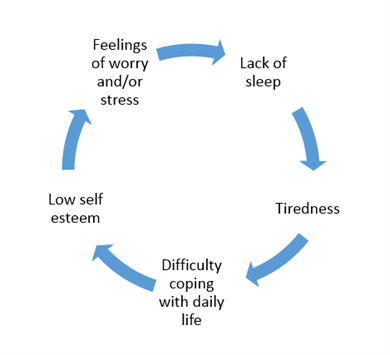 What are the common problems associated with sleep?
Sleep problems can take a variety of different forms. It might be that we have difficulty with falling asleep, staying asleep or that we wake early. There may be times when sleep is disturbed by panic attacks or nightmares.
In contrast, we might find it hard to wake up or get out of bed. Sleep problems might also involve feeling tired most of the time or sleeping at times of the day when we need to be awake.
How can sleep problems affect our mental health?
Mind.org states that if someone is having problems with sleep, then they might:
feel lonely or isolated — for example, if you don't have the energy to see people or they don't seem to understand
struggle to concentrate, or make plans and decisions
feel irritable or not have energy to do things
have problems with day to day life — for example, at work, school or with family and friends
How to help with sleep problems
A range of things can help to improve our sleep. It is important to recognise that sleep problems can be caused by different things, and we may need to try different solutions.
If something doesn't work, you can always try something else and come back to it later. Top tips from Mind.org include:
Establishing a routine.

Relaxing before we try to sleep — having a bath or doing a meditation.

Filling in a sleep diary to see if there is a pattern to the sleeplessness. A sleep diary template is available on the NHS Live Well Site.

Making our sleep area more comfortable — a cool, dark quiet setting is best, but we may need to experiment with the best setting for us.

Reducing screen time before we go to sleep — try to avoid screens two hours before bedtime.

Looking after ourselves -a healthy diet, exercise and fresh air can aid our sleep.

Seeking support for deeper issues that may be connected to our sleeping difficulties — Mind.org provides of list of helpful support services that people can contact.
Where else to go for support
If you have any concerns about your child/ren's sleep patterns or overall mental health, you can get more information and advice by visiting chums.uk.com, the Mental Health and Emotional Wellbeing Service for Children and Young People.
You can also contact your child's class teacher to raise any mental health and well-being concerns by emailing office@owps.org.uk, using the website contact form, or emailing your child's year group (all the year group emails are listed here).
If you are concerned about your own mental health and well-being, you can read more about how to access further advice and support by clicking here to visit Mind's website.
Mind states that despite the pandemic, the NHS is still encouraging people to come forward for support with mental health and well-being, with the GP cited as the first port of call.
Photo by David Clode on Unsplash