How to help children understand war and conflict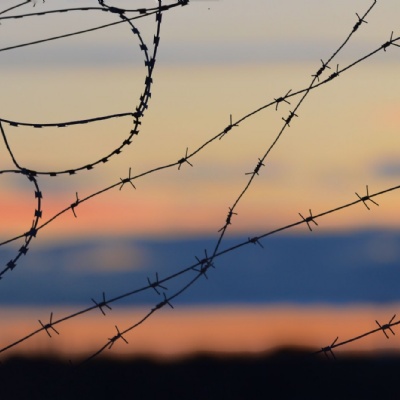 When Russia invaded Ukraine on 24th February 2022, parents all over the world were faced with the dilemma of how to explain the conflict to their children. War is a difficult subject for children and adults alike to understand. Find out what advice is out there to help.
Conflict and Anxiety
As we have seen during the pandemic and other world events, children's and adults' mental health can be affected by events outside our control.
War, in particular, is a frightening subject and the 24-hour news coverage of the Ukraine conflict will mean that most children and adults will be aware of what is happening.
Awareness of the conflict can increase our feelings of anxiety, particularly when phrases like 'World War 3' and 'nuclear weapons' make the headlines. Children are likely to look towards their caregivers for reassurance and information.
How to talk to children about War
Save the Children offers some advice from experts about how to approach the subject of war with children who are not directly involved in the conflict but who may be worried:
1. Make time and listen when your child wants to talk
Give children the space to tell you what they know, how they feel, and to ask you questions. They may have formed a completely different picture of the situation than you have. Take the time to listen to what they think, and what they have seen or heard.
2. Tailor the conversation to the child
Be mindful of the child's age as you approach the conversation with them. Young children may not understand what conflict or war means and require an age-appropriate explanation. Be careful not to over-explain the situation or go into too much detail as this can make children unnecessarily anxious. Younger children may be satisfied just by understanding that sometimes countries fight. Older children are more likely to understand what war means but may still benefit from talking with you about the situation. In fact, older children will often be more concerned by talk of war because they tend to understand the dangers better than younger children do.
3. Validate their feelings
It is important that children feel supported in the conversation. They should not feel judged or have their concerns dismissed. When children have the chance to have an open and honest conversation about things upsetting them, it can create a sense of relief and safety.
4. Reassure them that adults all over the world are working hard to resolve this
Remind children that this is not their problem to solve. They should not feel guilty about playing, seeing their friends, and doing the things that make them happy. Stay calm when you approach the conversation. Children often copy the sentiments of their caregivers—if you are uneasy about the situation, chances are your child will be uneasy as well.
5. Give them a practical way to help
Support children who want to help. Children who have the opportunity to help those affected by the conflict can feel like they are part of the solution. Children can create fundraisers, send letters to local decision-makers, or create drawings calling for peace.
Other ways to support children who are worried about war
The BBC website has a very useful article about the Ukraine conflict: How to help yourself, your kids, and others. It explains that adults may need to set the example of stepping away from the news and 'doomscrolling' to get things in perspective and reduce their own anxiety. This will encourage children to also not overload themselves with worry about the situation.
The BBC website also suggests that talking about the subject in an age-appropriate way can help children come to terms with the situation:
The first thing to know is that avoiding the topic can make children feel scared, says Ane Lemche, a psychologist and child counsellor with Save the Children.
Prof Vivian Hill, from the British Psychological Society, recommends making the conversation age-appropriate. For younger children, she suggests, this could be as simple as showing them where Ukraine is on a map, so they understand it's happening somewhere far away from them. For older children, it might include providing some context.
But at any age, the key thing is to reassure them.
"Keep it as matter-of-fact as you can: explain that there have been wars all over the world in the past few years and we've been lucky that most of them haven't had any impact on families in the UK - it's a good way of helping them to have a sense of the degree of risk that's posed to them," says Prof Hill.
"And that's what children want reassurance about - that they're safe."
If they are worried about people in Ukraine, she suggests talking about the measures they are taking to protect themselves. "You talk to them about how most people are in air raid shelters and away from the bombs, or you may talk about how people are moving to other countries where it's safer."
The Unicef website also has advice about how to talk to your children about conflict and war. It includes the importance of spreading compassion, not stigma, and explains that:
Conflict can often bring with it prejudice and discrimination, whether against a people or country. When talking to your children, avoid labels like "bad people" or "evil" and instead use it as an opportunity to encourage compassion, such as for the families forced to flee their homes.
Even if a conflict is happening in a distant country, it can fuel discrimination on your doorstep. Check that your children are not experiencing or contributing to bullying. If they have been called names or bullied at school, encourage them to tell you or an adult whom they trust.
Remind your children that everyone deserves to be safe at school and in society. Bullying and discrimination is always wrong, and we should each do our part to spread kindness and support each other
Where to go if you or your child need support
If you have any concerns about your child/ren's mental health, you can get more information and advice by visiting chums.uk.com, the Mental Health and Emotional Wellbeing Service for Children and Young People.
You can also contact your child's class teacher to raise any mental health and well-being concerns by emailing office@owps.org.uk, using the website contact form, or emailing your child's year group (all the year group emails are listed here).
If you are concerned about your own mental health and well-being, you can read more about how to access further advice and support by clicking here to visit Mind's website.
The NHS is encouraging people to come forward for support with mental health and well-being, with the GP cited as the first port of call.
Photo by Антон Дмитриев on Unsplash