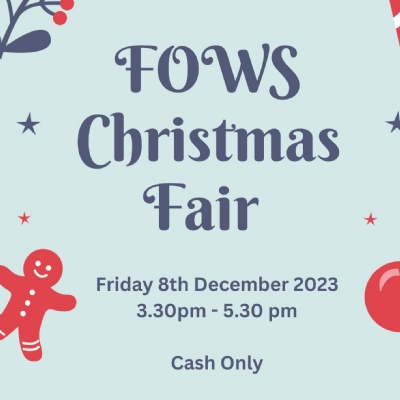 FOWS Christmas Fair
Published 01/12/23
The School Christmas Fair will soon be upon us, and we are looking forward to seeing you and the children there.
Raffle tickets – Please don't forget to sell your raffle tickets and hand in the stubs and cash. The Raffle will be drawn at the end of the school fair on the 8th December, so there is still plenty of time to pick up additional tickets should you need them, from the school office.
Cakes – We are still looking for bakers who can make some treats for us to sell at the fair. Cupcakes, Brownies, Victoria sponge, whatever your speciality, any donations are welcome. We ask that you drop your cakes of prior to 1.30 on the 8th to the school office along with a list of ingredients for allergen purposes. Please note that we are a nut free school, so no cakes with nuts please.
Fair set up and break down – Many hands make light work and if anyone is free to help set up the fair from 1.30 on the 8th or hand around to help us tidy up at 5.30 (ish) it would be much appreciated.
Match Funders – If you work for an organisation that match funds, we would love to hear from you as match funding can give our fundraising a huge boost. Please get in contact with the FOWS Team fows@owps.org.uk
Read More