World Book Day 2022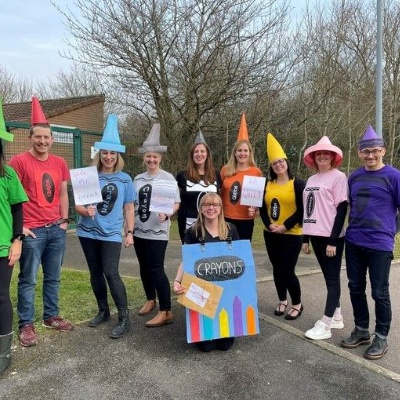 By Mrs Edwards, Reading Lead
At Orton Wistow we were so excited to return to a full celebration of World Book Day on 3rd March 2022. All of the children and adults in school were invited to come to school dressed up as a character from a book that they love. There were costumes from so many different books, some classics, some well-known and some less so, all equally brilliant. We were so proud of the efforts made by the children and their families - thank you! During the day the children had an opportunity to see all of the costumes from their teams in a mini outdoor parade.
The focus for the day at OWPS was poetry. Each team was gifted a new set of poetry books that make up the new Poetry Spine in school. Throughout the day the children and adults dipped into the new books reading a variety of poems. Some classes became very competitive about how many they had read - even keeping a tally!
The children also watched a virtual assembly during which Mrs Campling broke onto the screen, setting an exciting challenge to the children, to help us come up with a Reading Spine for all years, as chosen by the Children. Mrs Edwards also launched the sponsored Readathon, raising funds for books and storytellers for Addenbrookes Children's Ward. This also offered a 'Double Dojo' reward for children taking part.
We were so pleased to be able to celebrate this special event again, and hope that the children enjoyed it as much as the staff, many of whom were in disguise as 'The Crayons who Quit' for the day - causing much entertainment for the children as they tried to hunt them all down!