The Big Walk and Wheel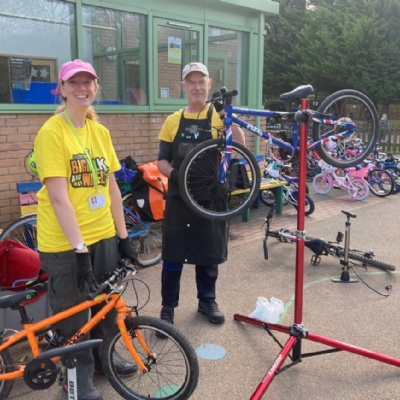 Thank you to all our children, parents, and siblings who supported the Big Walk and Wheel. The final results are yet to be in but, at the time of writing this, we were in the top three schools in Peterborough who travelled to school by bike, scooter or foot over the last ten days.
The children always enjoy the competition, it's always lovely to hear them proudly telling us they didn't come to school in the car and to show us their bike in the playground. We didn't have such a big turnout in Key Stage Two but are hoping our obstacle course event later on in the year will encourage more children to practice cycling. I only took up cycling recently and somehow ended up doing a sprint triathlon at the weekend which was almost enjoyable! Hopefully, competitions like this will encourage our children to develop healthy habits, and we will continue to see lots of bikes and scooters in the playground!
Thanks also to the team at Sustrans who came to repair our bikes!