RSPCA Cake Sale Update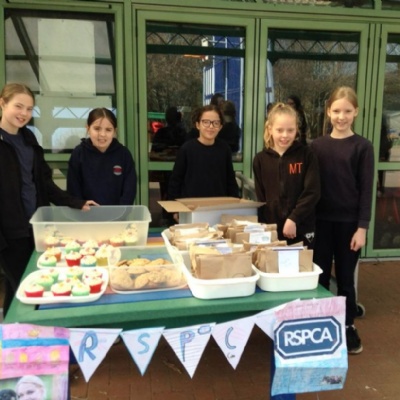 Five enterprising girls from Year 5 decided to hold a cake sale to raise money for the RSPCA. Find out how it went and how much they raised...
Five girls from the Year 5 Pandas class planned a cake sale for Upper Key Stage Two. The aim was to raise money for the RSPCA charity. The cake sale took place on Monday the 28th of March 2022, on the KS2 playground at breaktime.
The idea started when the girls saw a Pudsey poster that suggested different ways to raise money, and they were inspired to organise a cake sale.
The girls designed an order form listing the different types of cakes that were for sale and distributed them across the Years 5 and 6 classes. The choice of delicious treats included cupcakes, brownies, cookies, and rice crispie cakes.
A busy few days of baking resulted in a fantastic selection of cakes to give out on the day of the cake sale. Members of staff were also able to order cakes and everyone was delighted with how delicious the food tasted.
Afterward, the girls helped to count up all the money they had raised. The grand total from the cake sale was £123.35!
One of the girls commented on behalf of the group that:
"It was fun although a bit stressful at times when we had only got half of the cakes decorated. I learned to be patient and to plan future events. It was good to work as part of a team."
The girls received an email from the RSPCA to say that:
"The money you've raised will help animals across England and Wales live a life free from neglect and cruelty. We cannot thank you enough."
Mr Eardley, the OWPS Headteacher, commented:
"What a fantastic example of the PRIDE Code and our Learning Toolkit. The girls came to me with their idea and were able to turn it into a plan. I am incredibly proud of them."
For more details about the RSPCA and the work it does, please visit https://www.rspca.org.uk/