OWPS Sponsored Event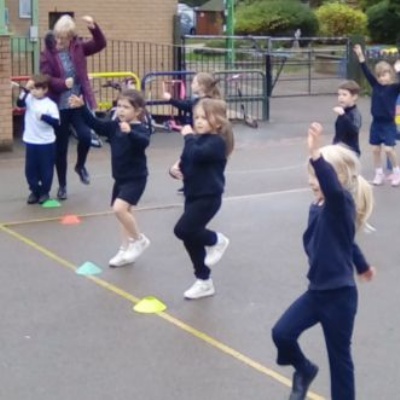 Mr Marks reveals the amazing total so far of the amount raised for the Sponsored event...
On Friday 23rd October, the last day of the half term, the whole school took part in the OWPS Sponsor Day event.
Each year group decided on a challenge for the children to take part in and, throughout the day, every class had an opportunity to take part, trying to raise as much money as they could to go towards something for their team.
All children arrived at school in their PE kits, looking excited and ready to go! All the chosen challenges were PE-based and we were crossing our fingers for good weather. Luckily, after a damp start, the day turned dry and bright and the events could go ahead.
The Foundation Stage children took part in a number of physical activities in the hall. There were eight stations in total and our youngest children persevered and did a great job at completing each one!
The Elephants and Iguanas completed 18 different physical activities as part of their keep fit bingo challenge.
Years Three and Four completed laps of the playground, attempting to run as far as they could as a team. When they added up all their laps and converted the distance into miles, they had run an astonishing distance as a team! I know all the adults in Lower Key Stage Two were very proud of the children's efforts.
Upper Key Stage Two completed a similar challenge, attempting to run as many laps as possible in twenty minutes. They had to collect a token for each lap they finished and we were worried we weren't going to have enough! They were incredible.
This year, the children have raised a total of £4,495.71, with more money still to be collected! Last year, we raised £2,676.10, so this year's total is a fantastic achievement.
Thank you so much to everyone that has sponsored this event. It makes such a difference.