Foundation Stage Nativity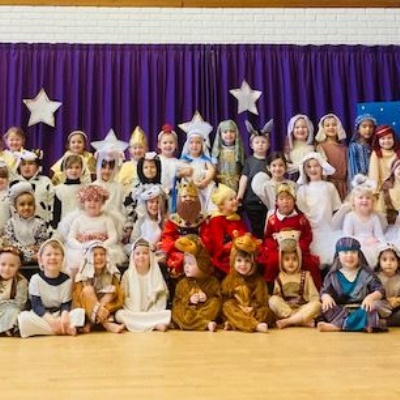 The Magpies and Penguins had great fun dressing up and learning about the story of Christmas through their production of A 'New Normal' Nativity.
In previous years, we start singing the songs just before half term and then spend time practising for the event held in December for parents to attend.
This year the children worked in their 'scene' groups, learning about how to retell their part of the story. The Kings travelled a long way around the school to represent the long journey they made to see baby Jesus. The shepherds were on the field around a 'fire' to re-enact looking after sheep. We added to the story by having a sheepdog rounding up the sheep, along with villagers in Bethlehem guiding the way to register the birth. We also had a street scene where the children offered fruit and vegetables to the travellers.
We are very grateful for the lovely costumes that the parents sent in, special thanks also to Mr Hollingsworth from IT support who helped with some of the technology. After a few final cuts, we showed the children what they had achieved.
Watching on the big screen in the classroom bought tears to our eyes as the children sat enthralled. It was the quietest they have ever been! Since adding to it Twitter, we have had messages from previous members of staff and have been stopped in the street by parents of older children to say how much they enjoyed it. Well done to all involved!