New Design for our House Shields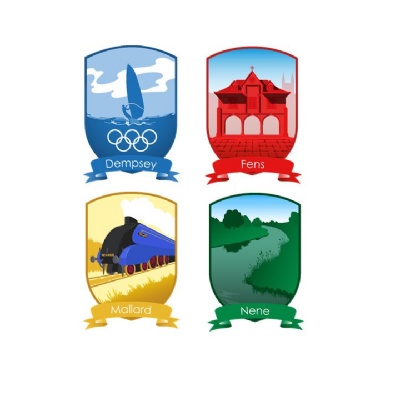 We are delighted to unveil our new House Shields...
Orton Wistow Primary School House Shields
We are delighted to reveal the new design for the OWPS House Shields, which have been redesigned by our designer Carla Corrado and her colleague Lauren Doe, in collaboration with Mr Eardley. The new images can be used on the website and in print media. We're sure you'll agree that they look fabulous!
History of the House Shields
In 2006/2007, Orton Wistow Primary School ran a competition to rename the houses at the school. As a result of the competition, the four names were decided.
Dempsey is named after Nick Dempsey, the Olympic sailor, who used to be a pupil at the school.

Mallard is named after the famous steam train, LNER Class A4 4468. It is the holder of the world speed record for steam locomotives. The record speed of 126 mph was achieved on the 3rd July 1938 on a stretch of track on the East Coast Main Line, just north of Peterborough.

Fens is named after the stretch of fenland countryside, The Fens, that lies to the North and East of Peterborough. It is a particularly fertile area of low-lying countryside that was drained in the 19th century to provide land for agriculture.

Nene is named after the River Nene, which flows through the Nene Valley from the hills of West Northamptonshire to Peterborough.
The children created the initial designs, for example choosing the Guildhall as the symbol for Fens.
Peter West, an ex-teacher, produced the original designs, which are now on display in the Main Hall. We asked Carla to use these as a starting point, and Mr Eardley and the design team have been working on the designs since last October to get them right!
House Points on the Home Page
Now that we have our wonderful new House Shields, we have decided to display them on the website's home page. Each week, you will be able to see the latest running totals for each of the houses. After Sports Day, we will keep the totals under wraps until we reveal the winning house at the end of term.