Empathy Day at OWPS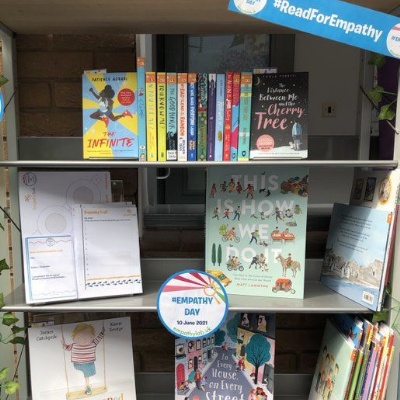 By Mrs Campling, Librarian
Empathy Day was founded in 2017 to encourage children and young people to exercise their ability to empathise and inspire them to lead a movement of empathy. The day focuses on using books to step into someone else's shoes (#readforempathy) which, as I've written before in my Library Corner, is one of the most powerful effects of reading.
The ability to not only imagine a different situation than your own, but to feel compassion and empathy for the person in it, is one that is invaluable for our children to learn. This year more than ever we have seen the best of the human ability to empathise, in the ways that communities have gathered together to support one another through the pandemic, and to accept difficult situations for the benefit of others.
Each year, Empathy Lab (https://www.empathylab.uk) runs events and activities for schools, families and libraries to help children to "read, connect and act with empathy". This has mainly been online and through resourcing schools with activities and lesson plans specifically designed for exploring empathy through reading.
Children have been able to take part in different activities when they've visited the library such as creating 'empathy glasses', reviewing and recommending books, and following a character trail with clues relating to how characters may have felt about the things that happened to them.


We have also tied this in with our new collection of books from A New Chapter, a new, diverse bookshop that aims to support schools in creating diverse book collections. These books cover a variety of things: neurodiverse characters, LGBTQ+ characters, diverse families, grief, and more!
There is plenty more that we can do at school and at home to encourage empathy, such as:
Going for an 'empathy walk' where you imagine yourselves in the shoes of the people you see out and about. Try and notice what their body language or circumstances may say about their feelings.

Make empathy resolutions. How can we respond to other people when they are in difficulty (practically and emotionally)? Choose one person, organisation or cause to reach out to or help regularly.

Pretend you are somebody else (either a family member, a member of society such as a bus driver, nurse, or teacher) and imagine what it would be like to be that person. Is it the same as being yourself?
And lastly, why not give our character clues a go at home?
My parents died and my aunt & uncle didn't treat me well. At school everyone thought I was special, but not in a good way! My friends accepted me though, and we ended up defeating evil together.

I was lonely and sad when I arrived from Peru, but I found a home and a family who love me even though I am different.

We didn't have a lot of money and had to all share one room, but everything changed when I discovered a golden ticket!

I am the smallest creature in the wood but by using my imagination and being brave I stopped bigger animals from eating me - and even made the BIGGEST one think I would eat him!

Sometimes I am naughty (or even horrid…) but I just want to have fun! I may not behave well but I don't really mean to hurt anyone.

I'm not like everyone else in our village and they thought that was a bad thing, but I changed our whole way of thinking for the better.

My family picked on me because I am cleverer than they are, but my special powers and love of reading helped me find a new home.

I stand out from the rest of the herd and sometimes they think I am silly; but what makes me different is what makes me special!

Some people think that I am dangerous because I am wild, which can be lonely sometimes. But one person invited me in to have tea with her and we became best friends.

People kept trying to tell me what I was - a bat, a sword, a flag, a twig - but I know who I really am! I'm me - and I just want to get home.
Here are some picture clues (not in order) to help you out!
Photo by Daniele Levis Pelusi on Unsplash