A New Sculpture for OWPS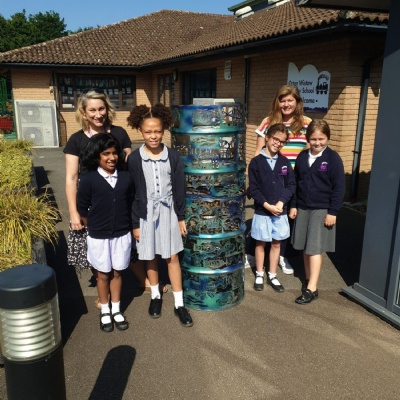 Following Jenni Cairns visit to Year Four on 15th June, we were delighted to see her return with the finished sculpture.
Children in Year Four had the privilege of taking part in an art workshop run by local sculpture artist Jeni Cairns on 15th June 2021. Last week, she returned with the finished piece.
Jeni is an award-winning artist and garden designer and her work involves a variety of mediums and disciplines including metal work, painting, collage, sculpture, drawing, garden design and planting. ​You can learn more about Jeni and see her incredible designs by visiting her website www.juniperhouseemporium.com.
On the theme of the river, Year Four made prints of water animals. They watched as Jenny used her plasma cutter to convert these designs onto metal. Jenni then took the designs away to complete the sculpture. She said it took 5 hours to cut each design out on the oil drums and then weld the drums together.
Jenni also worked with some Year Four children to create a fantastic display of the children's work, which is in pride of place in the school hall:
We are looking forward to exhibiting the sculpture in the school grounds.