Arts Mark Cultural Passport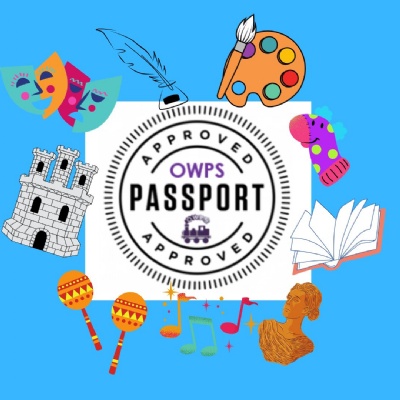 By Miss Ellis (Drama Lead) and Mrs McIntosh (Art Lead)
As part of our work towards gaining an accreditation towards the 'Arts Mark', we are launching a Cultural Passport to all pupils at Orton Wistow Primary School.
One of the biggest impacts of the Coronavirus was its 'hit' on the arts. Theatres, galleries, museums, street theatres and live acts disappeared or closed- some may never reopen. This has had an impact on the amount of cultural involvement children have experienced.
Therefore, we have developed a 'Cultural Passport' which will encourage families of Orton Wistow Primary School to seek out and explore different cultural opportunities at home, locally and nationally.
All children will be issued with a cultural passport containing suggestions of experiences in the arts at home (or school), local and national level. We will promote awareness of activities via our Twitter Page @OWPSart_culture.
If your child would like to participate in the challenge, simply share photographic evidence of your child completing their chosen activity via class Dojo (years 1-6), Tapestry (Foundation Stage Children). Or alternatively, share the experience with their class in a 'show and tell' session.
As a reward for completing any 6 activities, the children will receive a certificate. There are Bronze, Silver, Gold, Platinum and Diamond certificates up for grabs for every six challenges that your child completes.
It has been wonderful to see that so many of you have visited places of arts and culture, however, just to clarify we are only accepting evidence of trips and visits taken from now onwards. We hope this will encourage new and exciting visits and opportunities.
We look forward to hearing and seeing about the adventures you go on and the activities which you complete as part of the OWPS Cultural Passport challenge.
Please watch our video, where we explain the Cultural Passport in more detail.
If you have any questions regarding the Cultural Passport, please do not hesitate to get in touch with the Arts Mark Team, Mrs McIntosh (Arts Lead) and Miss Ellis (Drama Lead).