Sports Days 2021-2022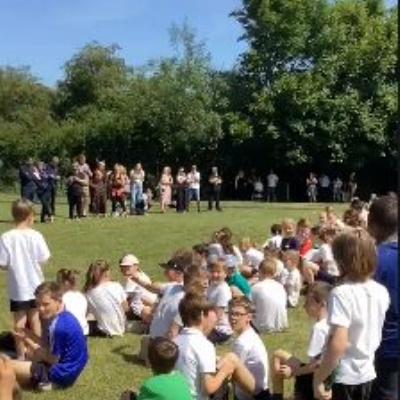 KS1 Sports day 24.06.22
On a mild morning, we were thrilled to be able to open our gates to visitors for the KS1 Sports Day. The children were placed into teams, with each team split into four different houses. As the morning started, the children demonstrated fantastic teamwork, encouraging their team members throughout. The adults created a wonderful atmosphere, making sure that the children had encouragement and support.
Each team visited the seven stations set up (as well as two rest stations for a well-deserved break). Some stations were trickier than others, but all the children took part in the stations. From strategic placement with the bean bags to brilliant technique using the foam javelins, the KS1 children were supported by the Year 6 boys and girls. A special mention goes to the Year 6 helpers as they represented the school tremendously well. They set a wonderful example for the children and make sure that their demonstrations were precise and clear. Once all the children had visited every station, the children, along with their parents, took part in races on the track. It was brilliant to see so many children wanting to take part, and all that did can be proud.
I'd like to say a massive thank you to all the adults who came and supported their child and to the children themselves who made the morning a fantastic sporting event.
KS2 Sports day 21.06.22
Unlike KS1 sports day, the KS2 sports day was blisteringly hot. The children were again separated into their houses, and they were able to get underway with the stations. As the children are older and the transition between the stations is quicker, the boys and girls took part in 10 active stations with 2 stations as rest. A few different stations consisted of relay agility, tennis dribble and different distances for the other dribbling events. The KS2 children showed brilliant teamwork, encouragement and a desire to do well at all times. Even though they may have not had a child in their year in their team, they did not let this hinder their interactions with each other.
I'd like to say that both the KS1 and KS2 sports days ran so smoothly because of the commitment from staff and children at the school. It would not have been possible without them.
To the adults that attended, the atmosphere was electric and because of that, both days were ones to remember. So again thank you for your continued support of the school and your children.
The overall results for both days are:
1st – Fens (5291)
2nd – Mallard (5232)
3rd – Dempsey (5154)
4th – Nene (4543)