Stay Connected at OWPS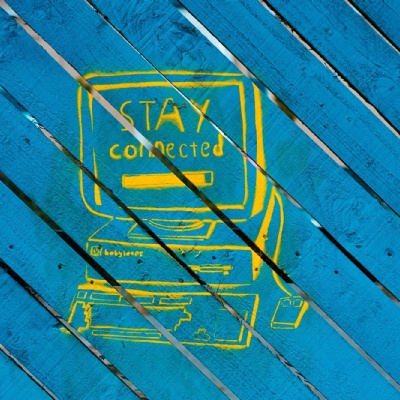 By Fiona Schneider, Digital Lead
In the last questionnaire that we sent out to parents in July 2021, 94% of respondents said that the school communicates well with parents.
The Contact page of the website gives details on how to phone or email or drop into the school office, but we would also like to draw your attention to the ways you can stay connected with OWPS digitally.
Twitter
The school and each class at OWPS have lively and regularly updated Twitter accounts that we would love you to follow. Teachers post photos and information about class and school life. Twitter is a great way to see what's going on in your child's class on a day-to-day basis. We encourage positive interaction with the tweets including comments, retweets and likes if you wish. Please do follow the school and your child's class Twitter if you can. The twitter handles are:
@OWPSchool - whole school
@OWPS_FS - Magpies and Pengins
@OWPSwombats - Wombats, Year 1
@OWPSiguanas - Iguanas, Year 1
@OWPSelephants - Elephants, Year 2
@OWPSsquirrels - Squirrels, Year 2
@OWPS_seals - Seals, Year 3
@OWPSnightingales - Nightingales, Year 3
@OWPScobras - Cobras, Year 4
@OWPSgiraffes - Giraffes, Year 4
@OWPS_pandas - Pandas, Year 5
@OWPSflamingoes - Flamingoes, Year 5
@OWPStoucans - Toucans, Year 6
@OWPS_sharks - Sharks, Year 6
Parent Portal
The Parent Portal is a one-stop digital hub created by our website providers, E4 Education, where parents can access relevant information about their child/ren.
A simple login brings parents to a dashboard that contains the following information:
your child's attendance
emails from the school that are relevant to your child
copies of all newsletters
school news articles
school calendar
link to ParentMail
We will also upload student reports directly to the Parent Portal throughout the year.
What are the benefits of the Parent Portal?
When we send out an email to parents, the Parent Portal automatically generates a copy in your Parent Portal account. Instead of having to search through emails, you will have all the school's emails in one place.
If you'd like to check your child's attendance statistics, you can do so on the Parent Portal in one glance.
A copy of all the school e-newsletters that are published on the website are also stored on the Parent Portal, making it easy to find and read useful information.
The school news feed that contains articles about the latest news from OWPS is also published on the Parent Portal.
If you want to check the details of upcoming events, you can open up the Parent Portal and gain access directly to the school calendar from there.
There will also be quick links to useful items such as ParentMail, the school's contact details and a form for you to update your address or contact details.
News and Events on the Website
There is an area on the OWPS website called News and Events containing the following pages:
Achievements - including Attendance, Class Dojos, Dojo Masters, House Points, Reading Champions, Shining Stars and Times Table Rock Stars news feeds.
Calendar – the OWPS calendar of events, which you will be able to sync to your devices' calendar (more details below).
Children's Work – showcasing the best of the children's work from Foundation Stage, Years 1 & 2, Years 3 & 4 and Years 5 & 6.
Clubs – containing information about termly clubs.
Community News – passing on news and events in the local, national and international community.
Library News – informing you about what is happening in the library.
School News – a newsfeed containing all the latest news stories from OWPS.
News and Events App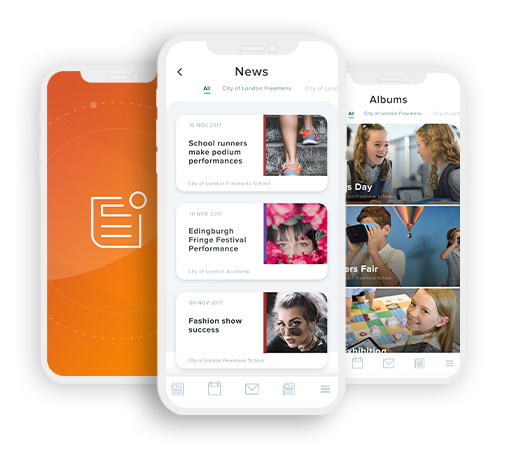 A News and Events App is already available and we would encourage you to download it. The App will display all of the news feeds from the OWPS website and events from the website Calendar.
You can find it on our website by clicking the link here or by following the instructions below:
Firstly, you will need to download the app from either the iTunes App Store , Google Play or Windows Store by clicking on the relevant buttons below or by loading up the app store on your phone and searching for 'School News'.
Once you have located and downloaded the free app, launch the app and you will then be able to either click on the 'Find my school' button which uses the phones GPS to locate all the schools in the surrounding 20 miles, or you can type in the school's postcode and click on 'Get my school' button.
Your school's postcode is: PE2 6GF
You will then see a list of schools that use the app. Click on the school you wish to view news & events for.
You will then be able to click on the 'News' button to view all of the latest news items that have been added to the school(s) you have selected and also all of the upcoming calendar events by clicking on the 'Events' button.
Clicking on 'My Schools' will display a list of schools that you view news and events for. Clicking on one of the schools will the display the school address, telephone number and email address which you can click on to either phone or email the school directly from the app.
Syncing the OWPS Website Calendar to your own Calendar
A fantastic feature on the OWPS website calendar means that you can sync the calendar to your phone or device.
So that you can select the year group events that you would like to view, events on the calendar have now been assigned the following categories:
Foundation Stage
Year 1
Year 2
Year 3
Year 4
Year 5
Year 6
Whole School
This means that parents and carers can choose which calendars they would like to view in a new tick-box menu called 'Calendars' which appears on the calendar page of the website:
Once you have selected the relevant calendars, you can then click 'subscribe' to link the calendar to the calendar on your chosen device if you wish.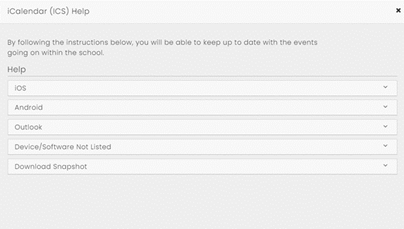 For example, you could unselect all the calendars, then choose Whole School and Year 6 to see and/or subscribe to the dates that are relevant to a Year 6 child. If you also had a child in Year 3, you could tick that option too.
To visit the website calendar and try out these new features, please click here.
And finally…
We hope that these initiatives help you stay connected to what is happening at OWPS. If you have any questions or queries, please do not hesitate to contact us at digital@owps.org.uk.