The Art and Cultural Passport Update 15.07.22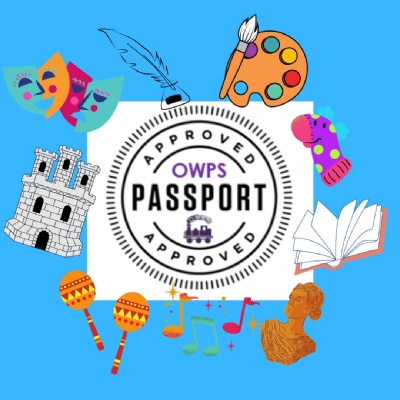 By Mrs McIntosh, Art Lead
At the start of the year, we launched the 'Art and Cultural' passport! There were two main reasons for this. The first reason was an aim set for our work towards the 'Artsmark', which is the only creative quality standard for schools and education settings, accredited by Arts Council England.
The second reason was the most important. After two years of lockdown and the closure or limited access to our wonderful places of art and culture, we felt it was important to inspire children to 'get back out there' and visit galleries, museums, and historical sites or just get creating!
Mrs Ironside, Miss Ellis and I got together to create the passport with a focus on activities children could get involved in at home, locally and nationally that were linked to the arts or culture with a range that was accessible to all. We are pleased to say this has been a success, and we have given out lots of stamps. In fact, it adds up to over 500 visits to historical sites, galleries, museums, theatres, sculpture parks and street parades!
We have seen children performing poetry and songs and creating videos of mini productions. We have seen children take advantage of the sculpture park at Nene Park, or visit the ever-changing exhibitions at Peterborough museum, Longthorpe Tower and Flag Fen. We have even seen children going out of their way whilst on holiday to visit historical sites such as Stone Henge and Derwent Dam.
Alongside this, we created the @OWPSart_culture Twitter page which promoted art and culture within the school alongside exhibitions, children's visits and ideas linked to the passport challenges.
It has been wonderful to see so many of you catch up on all the art and culture we missed during the pandemic and I truly feel our passport has had an impact, especially in the Foundation Stage and in KS1. Well done!
Now the challenge is over we can finally send off our Artsmark application showcasing our success.
Although the passport has come to an end, I hope the ideas and activities will continue to inspire you over the summer and beyond.
Many thanks to all of you that took part!