The Library Corner December 2021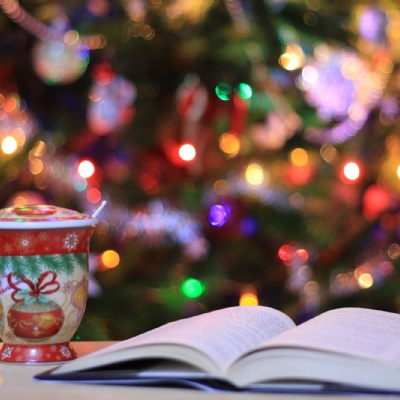 By Mrs Campling, Librarian
11 Christmases ago, I had just moved to Peterborough, and was living with a very generous family from my church who had agreed to put me up until I could find my own place to live. My own family lived 2 and half hours away in Berkshire and I had been pretty lonely. Someone to whom I was very close at the time decided to get me, for Christmas, a gift to remedy this. This person thought long and hard about what to give someone who was lonely and miserable. It couldn't be a pet, because the people I lived with already had a cat; it couldn't be a car or train tickets because, well, expensive; and they came to the conclusion that the best gift to cheer me up that Christmas was…
A plant. Not a pretty, fragrant, pleasant plant, mind you - an ENORMOUS, spiky, poisonous-to-cats (remember I lived with a cat) fern of some sort. The gift-giver also decided that, because the plant was difficult to wrap, they would build a rudimentary teepee out of some sticks and a bedsheet, and hide the plant underneath it.
I should also point out here that a) I don't really like plants and b) I'm the least green-fingered person you'll ever meet (seriously, I've brought plants home only for them to wither the minute they cross the threshold into my garden).
Needless to say, that person is not in my life any more.
(Incidentally, the same Christmas, I was given a small cuddly Chewbacca that makes Wookie noises when you squeeze his tummy. I married the person who gave me that!)
While the above story is probably on the extreme scale of "what on earth were you thinking?", we all know the struggle of trying to find the perfect gift, so if you're looking to get teachers a gift this Christmas, why not peruse our wishlist, choose a book, or even get a gift voucher?
Books from the wishlist get delivered straight to school (or you can buy OFF the list if you fancy wrapping them yourself) and you can even add a gift note to specify which teacher/class collection it's for!
https://www.anewchapterbooks.com/shop?Wishlists+(All+Schools)=Orton+Wistow+Primary+School
Story Writing Club
This week saw the final Story Writing Club session - my favourite of the term, as it's when the children who have been busy getting creative get to share their stories and ideas with the rest of us! Often with this club, I have children who start on a thousand different ideas and don't necessarily flesh any of them out, but this term the majority of my writers stuck with their initial ideas and really worked on the detail of them, with at least three full stories emerging in time for the final week! Attention to detail has been a real focus with this group, even when we've played creative games to spark the imagination, and their ideas have all been well-thought-out and complete! Well done Story Writers - and remember, if any of you finish your stories at home I want to see them!
Book Clubs
The Year 6 book club has moved on from Treasure Island to The Last Wild by Piers Torday, which I read for the first time this summer (along with its sequel, and threequel, and I excitedly await the prequel's publication in paperback this Spring so I can add it to our collection!). They've really engaged with this text, both with the story and the different techniques used by Torday to create the story. So far this half-term we've spent time listening in silence, completing nature similes, and thinking about our ideal superpowers (I would choose to have the powers of the Human Torch, who makes instantaneous fire and can fly). I've been really impressed with the children's participation in this text and I know more than one of them have already finished it! In our final session at the end of term, they'll be predicting what happens in books 2 and 3, and I'm interested to see how close they get to what actually happens next.
In addition to Year 6 we've also started a Year 2 book club once a fortnight. At the moment we are reading the BFG and so far we've enjoyed talking about the characters and comparing them to other characters we've read about.
Recommendations
Obviously, this month's recommendations are all Christmas books!
A Boy Called Christmas (trilogy) by Matt Haig
These books were around last year but this year A Boy Called Christmas has been released as a film, so why not read the book first? Written in response to the question "what was Father Christmas like as a child?", A Boy Called Christmas has all the necessary components of a Father Christmas origin story - elves, reindeer, magic, hope, and chocolate! In short, it's the story of a boy called Nikolas who goes to live in Elfhelm after losing his father, and grows up to be Father Christmas. It feels truly festive and heartwarming and, as with his books for adults, Matt Haig writes about human emotion very simply and effectively.
The Miracle on Ebenezer Street by Catherine Doyle
Catherine Doyle wrote one of my favourite (three) books read this year, The Storm Keeper's trilogy, and her adaptation of Dickens' classic does not disappoint. I read it in one sitting and to me it ranks up there with the Muppets' Christmas Carol in terms of excellency - the story is modern and different whilst still being faithful to the core of A Christmas Carol, Doyle's writing is lyrical and full of integrity, and there's a purple reindeer - what more could you want?
Mince Spies by Mark Sperring & Sophie Corrigan
There's chaos in the supermarket - all the sweet treats are being destroyed and nobody knows how it's happening! Fortunately, the Mince Spies are on the case, and with the help of a certain gentleman dressed in red, they uncover the culprits and restore order to the shelves. The true highlight of this book is the illustrations of mince pies (and other festive foods) in action.
Photo by Andreea Radu on Unsplash