The Library Corner - December 2022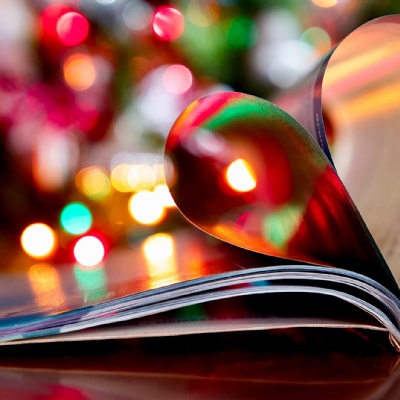 By Mrs Campling, School Librarian
It's the most wonderful time of the year! And we've been as busy as Father Christmas himself getting ready for it. As the school were all occupied on Tuesday watching Foundation's GORGEOUS nativity, I took the opportunity to 'wrap up' the bookcase and leave it as a big festive surprise ready for the start of December. By Thursday afternoon there was a hum of speculation about what could possibly be behind the wrapping (of a bookcase…in a library…). The Wombats and Iguanas were the lucky ones who got to tear off the wrapping to reveal a whole bookcase full of Christmas books, including some brand new ones for this year! (Of course it was absolutely necessary for me to read most of them first, to be sure that they are Christmassy enough, and as you'll see in this month's recommendations section they do not disappoint!)





Author of the Month



The Author of the Month display has also been seasonally updated to Alex T Smith, an author I personally love (and I know last year's Year 3 did too) and who has written many Christmassy books, including How Winston Delivered Christmas; The Grumpus; and The 12 Days of Christmas, or Grandma is Overly Generous. His non-festive titles are big favourites here, from Little Red & the Very Hungry Lion to Mr Penguin (intrepid Indiana Jones-esque explorer with kung-fu spider sidekick Colin). There's plenty to choose from!
Story Writing Club
This week we came to the end of this term's Story Writing Club. It was a very disjointed term due to illnesses, inset days and the like, but that didn't stop the children from coming up with creative and inventive stories on a variety of themes; unicorn princesses, chicken nugget dragons, and a secret detective agency! We also saw the last Library Club before Christmas, which has been a really enjoyable new venture. The brilliant Y6 Library Ambassadors have prepared scavenger hunts, games, and read with the children who attend and I know that they have all enjoyed having a little extra library time!
Recommended Reads!
The Grumpus by Alex T Smith - I loved this book SO MUCH that I've bought myself a copy and added it to my 'essential books to read in December otherwise Christmas won't even happen' list. Imagine the concept of The Grinch, add in lots of animal antics, some stinky sprouts and a sprinkling of magic, and you still won't have captured just how funny, heartwarming and festive this book is. 100% recommend!
Operation Nativity by Jenny Pearson - Whilst this is a children's book (under 8s probably best to read with an adult) I have seen SO MANY of my adult friends reading this too. Siblings Oscar and Molly are staying at their grandparents' (very fancy) country house for Christmas when a mysterious object crash lands in the field nearby. It's the Angel Gabriel - and he's accidentally transported himself, a shepherd, a wise man, Mary, Joseph and a donkey into the future! Oscar & Molly help him track everyone down so that the first Christmas can happen when and where it's supposed to, with plenty of hi-jinks along the way. An emotional ending but plenty of giggles throughout.
Kid Christmas of the Claus Brothers' Toy Shop by David Litchfield - This gorgeous picture book is a twist on the typical Father Christmas origin story. Nicky Claus works at his uncles' toy shop when he notices some children who are always looking through the window but never come in. He follows them home one day and discovers a whole community of children living underground on their own, and promises that he will do all he can to ensure that every child can receive a gift at Christmas. With the help of his three uncles (one who makes the toys, one who checks them, and one who adds the *magic*) he devises a way to deliver toys across the whole city, and eventually, the world. The illustrations are stunning and there are some lovely details (such as the reason why we hang fairy lights at Christmas!) which makes this a really warm, cosy read.
OWPS Book Fair


We have the Book Fair in school next week and children will be browsing before opening to shop at the Christmas Fair on Friday 9th. If you're unable to attend, there is also a 'mop-up' session on Monday 12th, after school in the library.
Photo by Eleonora Albasi on Unsplash