The Library Corner January 2022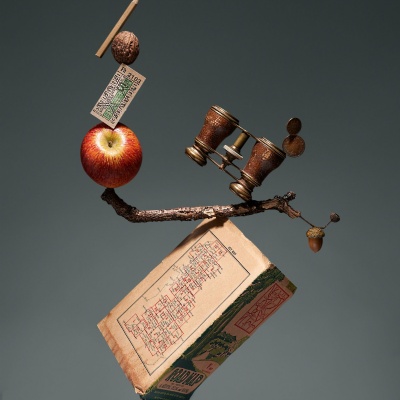 By Mrs Campling, OWPS Librarian
Happy New Year!
Happy New Year! The perfect time to make empty promises to ourselves about the things we will or won't do this year…certainly something I've been guilty of, as I'm sure you can identify! The problem with New Year's Resolutions seems to be that they are always big sweeping statements such as "this year I will get fit" or "this year I will stop buying things I don't need" or "this year I will do more for the environment" - and inevitably when the second week of January comes around, it's grey, it's boring, the year stretches before you like a black hole: and suddenly the benefit of keeping those big resolutions is harder to see, so we give up on them. (If you've ever made it past Jan with a resolution, I salute you).
My sister isn't the biggest reader, and last year she resolved to read at least one book a month. She borrowed a bunch from my shelves and got to December having read five books. She immediately focused on all the ways and reasons she had 'failed', but didn't see that she had spent more time reading than the year before, or the positive ways that had benefited her. Studies show that just 30 minutes of reading a week positively impacts our health and wellbeing - that's only 5 and a bit minutes a day! I know people who spend longer in the bathroom than that! Who amongst us doesn't want greater confidence, or stronger self-esteem; better sleep and a greater ability to empathise with others?
If you find it tricky to commit to 'grown-up' books, why not read kids' books? I took some of ours home over the summer last year and read about 20 (maybe I should've kept count across the year!), and actually some of them were my top books of the year. (Frankly I think grown-up literature could learn a lot from children's literature). Even picture books can be profoundly enriching, either in their humour or their powerful simplicity - just ask Mrs Ironside about the Paper Dolls! There are so many fantastic new children's books available now, and I really urge you to dip your toe in and read some!
The point is, there is no right or wrong kind of book to read. If you or your children like jokes, read a joke book! If you're into aerodynamics, read about stuff to do with aerodynamics! If you like dense historical fiction or romance or science fiction or toilet humour or sentimentality, there is a book for you. So this year, instead of setting a huge, unattainable resolution, why not just set 5 minutes aside a day to read? Even if that's all you manage, by December 31st that's 1825 minutes - more than 30 hours. And if you do ANYTHING for 30 hours, you're going to notice a difference!
Mrs Campling's Top Ten Children's Books Read in 2021
10. The Last Wild Trilogy by Piers Torday
9. The Ship of Shadows by Maria Kuzniar
8. Glassheart by Katherine Orton
7. Mr Penguin and the Fortress of Secrets by Alex T Smith
6. Ada Twist, Scientist by Andrea Beatty
5. The Book of Not Entirely Useful Advice by AF Harrold & Mini Grey
4. I Can Only Draw Worms by Will Mabbitt
3. The Chime Seekers by Ross Montgomery
2. The Storm Keeper's Trilogy by Catherine Doyle
1. The Shark Caller by Zillah Bethel
What's on in the Library?
This term we will be continuing with the Years 2 and 6 book clubs, which I'm very much looking forward to - having missed the last Y6 one due to illness I can't wait to find out their final impressions of The Last Wild and hear their predictions for what comes next! We'll either be continuing on with the series or choosing something new - so watch this space for what they decide!
Story Writing Club will also be starting up again with the rest of the clubs, if you've got a budding story writer who's requested a place you should be hearing very soon whether they'll be joining me! Typically, we spend the first few weeks doing some activities as a group around plot, character and ending a story, then I let them loose with their imaginations to create their own stories. We always have a lot of fun collaborating, and hearing individual ideas at the end of the term.
Regular class visits resume next week with years 6, 5, and FS (but don't forget KS2 can change their books independently during the school day as well).
The library is still open after school until 3:30 if you would like to pop down, however, we are asking parents to wear masks and may need to limit numbers if lots of you turn up at once!
Here's a reminder of the days for each year group:
Y1 & 2 - Tuesday
Y3 & 4 - Thursday
Y5 & 6 - Friday
Books that are coming out this year!
For my recommendations this month I'm highlighting some books that are coming out this year, in series or by authors we love.
Little People, Big Dreams; Marcus Rashford by Maria Isabel Sanchez Vegara - April
This series is HUGELY popular in the school library (and with my own children) and they are very good at responding to current events and people of interest, hence the impending biography of Marcus Rashford! I know this will barely see the shelf when we get this as we have so many children interested in real stories, in sportspeople, and in changing the world.
The Greatest Show on Earth by Mini Grey - April
Year 1 are huge fans of Mini Grey (as they rightly should be) and this upcoming non-fiction book is going to be a firm favourite! Narrated by an unruly troupe of insects, The Greatest Show tells the story of the ENTIRE HISTORY of Earth from the Big Bang to the present day.
The Thief Who Sang Storms by Sophie Anderson - March
The House with Chicken Legs and The Girl Who Speaks Bear are both very popular with years 5 & 6, and Thief seems likely to follow in their footsteps. It's the story of a girl who lives on a divided island, who longs to be able to sing the magic required to bring the people together and save her father. Like Anderson's earlier books, this covers themes of grief, belonging and identity in a beautiful and imaginative way. I'm looking forward to reading it myself!
OWPS Wishlist
For the rest of January, anyone using our wishlist can get 10% off their purchases by using the code WISHLIST
Here's the link: https://www.anewchapterbooks.com/shop?Wishlists+(All+Schools)=Orton+Wistow+Primary+School
Photo by Pickled Stardust on Unsplash