The Library Corner - March 2023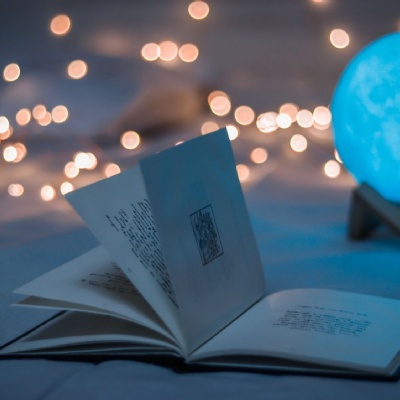 By Mrs Campling, Librarian
Story-writing
"Are you sure you want to read on? DO NOT. If you have thrown what you know about the world away… let's go then."
How's that for a compelling start to a story?! This was the opening line from one of the members of Story Writing Club and we were all immediately hooked. The story that followed had twists and turns as we met the main character in what seemed at first like a perfectly ordinary situation, only to discover grave danger and a supernatural edge. I'm proud to say this was not the only extraordinary piece of writing from this term's Story Writers, with evocative description such as "The sky is a splash of vibrant colours" and titles like "Not Everyone's the Same" (a story about neurodiversity & mental health), and "Billy, Guardian of the Dimensions" (a story about portals to other worlds); as well as environmental, supernatural, mystery, and ghost stories. What a smorgasbord of creativity! The children at SWC have worked really hard and really inventively this term to come up with a real variety of stories. They've helped each other along with suggestions when they've been stuck, and when we came to share our stories together in the final week, suitably grilled each other for more details and pleas for sequels. A resounding success!
Book Club
This term I've been running a Year 6 book club for a small group of children, using the book "Loki: A Bad God's Guide to Taking the Blame". We've created character profiles, compared the main character Loki to his Norse myth counterpart, filled out a calendar of key events, debated his potential for good, and read extracts together as a group. All of the children who have taken part have really thrown themselves into the group and enjoyed reading the text, and I particularly enjoyed our debate week, where both teams fully committed themselves to their respective arguments and gave really thorough and thoughtful evidence for their points. Well done team!
Author of the Month - March and April
For March, our author of the month has been Andrea Beaty, creator of Ada Twist, Scientist. She is passionate about empowering children through stories to explore and experience STEM, activism, creativity and social responsibility. Her books Ada Twist and Rosie Revere, Engineer were both featured in Story Time from Space; a project that saw astronauts reading children's books and doing science experiments in actual space, as a way of encouraging children to engage with literacy and science!
April's author of the month will be Michael Rosen, a name most (if not all of us) will know! He is most famous for his poetry and of course the timeless classic, We're Going on a Bear Hunt. In recent years he has written around the experience of Jewish people during WWII, based on his own family's experiences, and his experience following the loss of his son (in Michael Rosen's Sad Book).
Library Update
After Easter there will be a slight change in how everyone accesses the library. Instead of having a fortnightly class visit, all children will have daily opportunities to change their books, and each class will have at least two timetabled 'library lessons' per half term. In these lessons we'll be choosing from a wide menu of activities, such as book hot-seating, creating soundscapes, quizzes, Encyclopedia Bingo, fact-finding missions and more! Each class will have four new library passes as well for children to use at lunchtimes and all the usual extra-curriculars like Story Writing Club will be continuing too. I'm looking forward to being able to incorporate some more interactive elements into these lessons and hopefully building in some additional skills for the children, and show them that the library (and its books) can be so much more than they may realise.
Here's a little taster of a SWC favourite that we'll be using in some of our library lessons. You will need a dice, the following table, and your imaginations!
Roll the dice three times.
The first number will give you your character, the second will be your setting, and the third will be a problem. Your job is to make up what happens next! Enjoy!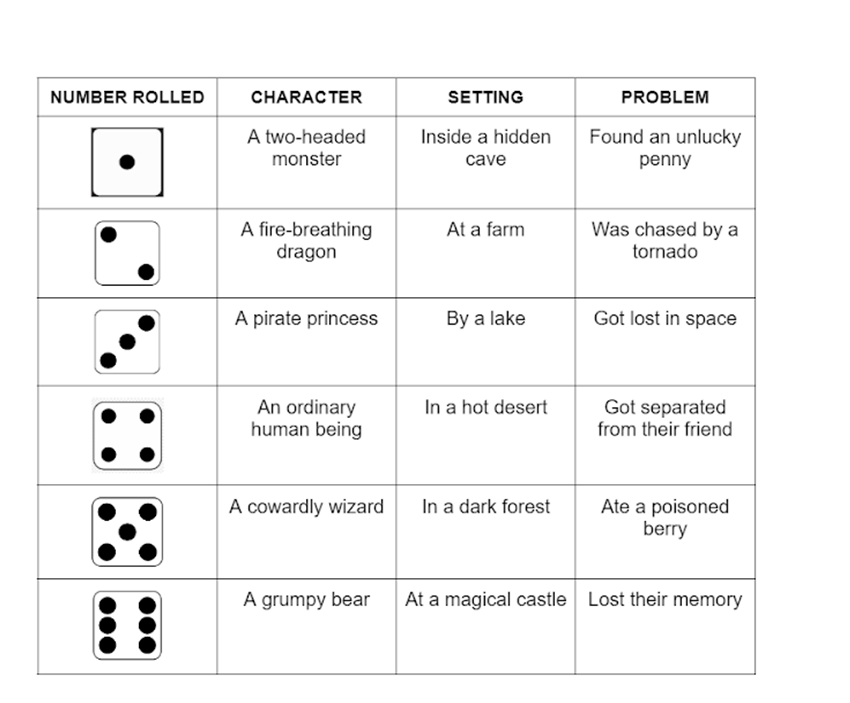 Recommended Reads
Insignificant Events in the Life of a Cactus by Dusti Bowling
This book was recently donated by a pupil and I devoured it in one sitting. Insignificant Events follows Aven, a girl born without arms, as she moves with her parents across the country and adjusts to life in a new place. She befriends Connor, who has Tourettes Syndrome, and together they set out to solve a mystery surrounding the theme park Aven's parents run. The book deals with both disabilities very straightforwardly and thoroughly, with humour and feeling, as things which heavily affect the characters, but don't define them or their mystery solving abilities. Recommended for UKS2.
Trailblazer by Elizabeth Dale
Trailblazer is the true story of Lily Parr, "the unstoppable star of women's football", in picture book format. Lily Parr was a footballer in the early 1900s who, along with her team, refused to stop playing football when the FA banned women's teams in 1921. The UK ban was not lifted until 1971 and of course our own Lionesses continue to be 'trailblazers' in the sport with their victory at the Euros! I had never heard of Lily Parr before reading this & recommend it not just to children interested in football, but anyone interested in standing up for what's fair and equal.
Recommended for all ages.
The Lost Whale by Hannah Gold
This second book by a local author follows Rio, a young boy who has been sent to live with his grandmother whilst his mother is in hospital, and his incredible encounter with a whale. When the whale goes missing, Rio sets out on a quest to find him. Like Gold's first book The Last Bear, this has a beautiful and powerful environmental message, and is a real treat to read.
Recommended for KS2.
Photo by Dollar Gill on Unsplash