The Queen's Green Canopy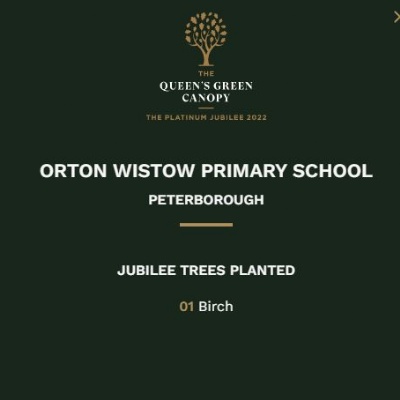 By Mr Eardley, Head Teacher
I still have my 1977 Silver Jubilee commemoration mug and have fond memories of the street party we had to celebrate what, at that time, felt like a monumental occasion. Since then, my family and I have marked the Golden and Diamond jubilees in some way with our own low-key celebrations, so you can imagine how excited I am about the Queen's Platinum Jubilee.
As you would expect, very few monarchs reach this milestone and the Queen is the first British monarch to achieve such an honour.
We were delighted to be invited to take part in the Queen's Green Canopy; a unique tree planting initiative created to mark Her Majesty's Platinum Jubilee in 2022 which invites people from across the United Kingdom to "Plant a Tree for the Jubilee".
With a focus on planting sustainably, the QGC encourages planting of trees to create a legacy in honour of The Queen's leadership of the Nation, which will benefit future generations. Along with the other schools in the OWN Trust, we recently planted a tree as part of the project.
Our tree, a silver birch, is by the Platform One gate and was planted by members of our newly formed School Council with a little help from me and Stuart Mansell, OWN Trust CEO.
An online map has been created to show all of the trees that have been planted across the country and now features the three OWN Trust trees! You can visit the map by clicking here.