Visit from Guildhall Musicians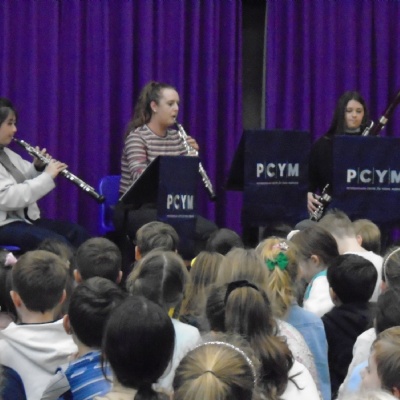 By Mrs Phillips, Music Lead
On Friday 19th November, we had a visit from three musicians - undergraduates from the Guildhall School of Music & Drama - as part of their mini-residency with Peterborough Music Hub.
Key Stage 1 and Key Stage 2 were treated to a concert each in the hall during the afternoon. The children loved listening to the wind trio play and learning a little about their instruments: the oboe, the cor anglais and the bassoon.
We were lucky enough to hear some beautiful music, from Dvorak and Tchaikovsky to Dance Monkey and The Lion King! There was even an opportunity to for a sing- and dance-along at the end.
Thank you to Peterborough Music Hub for allowing us to be involved in this wonderful event; we hope it has inspired some of the children to start learning an instrument or to take an instrument they already learn to a higher level.