Year 3 Assembly 29th June 2022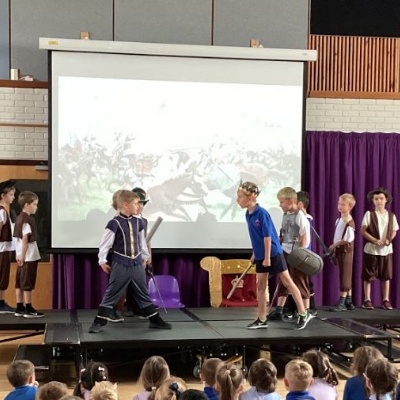 By Mr Newton, Year 3 Class Teachers
Last week the Year 3's had the opportunity to take all the children in school and lots of parents on a whistle-stop tour of the reigns of King Henry VII and King Henry VIII for our Year 3 assembly. The children did a brilliant job of acting, singing and telling the story loudly and clearly, and it was brilliant to have a hall full of parents again for the first time in a long time.
We had some fantastic feedback from parents who attended. Here is a selection of comments from parents:
Assembly was brilliant, the kids did so well to remember all the lines, and it was very enjoyable.
Lovely to be back in school and watching a performance that the children have been practising for. I think it improves children's confidence to perform or speak in front of people who aren't normally at school.
It was clear to see a lot of effort was put into this Year 3 assembly. It was great to see the children looking so excited to show off what they've been working so hard at learning. It was nice that the children had the option to have lines if they wanted some, and if not, they still had a just as an important part to play. Thank you, Mr Newton and Miss Strike for putting it together so well.