Year 5 Space Adventure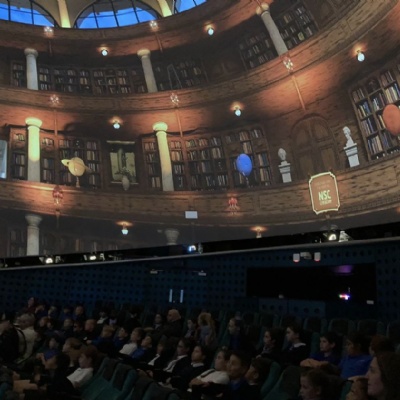 By Abi B, Year 5, Pandas Class
When we arrived at school (around 8:30 am) we started our morning task of colouring space pictures. At 8:40 we boarded the coach and started our journey to the National Space Centre.
When we finally arrived, we gazed in wonder at the lit signs, the glittering galleries and the life-size spacesuits. Our first stop was the Planetarium. The Planetarium, which has a huge domed roof, has interactive keypads, so you can join in. Afterwards, the Flamingoes and Pandas split up.
We then explored the galleries and some of them were amazing! They had spacecraft landing simulations and there was a Home Planet activity and there was a representation of our Solar System! We got to enter a mock capsule, which is not actually real, so that we could see all the buttons.
Immediately, it was time for our workshop. We combined white powder and water, used infrared cameras to capture heat and used marshmallows to show air pressure. It was also very cold from the air conditioning. We were discussing living in space (most people did not like the idea of recycling the water) and we found out that the food can be freeze-dried or vacuum packed and that fresh food is a treat in space. We were also told about the many layers of the spacesuit, and we did lots of experiments to show that. Finally, it was time for lunch.
We trooped down to the crowded, busy, noisy lunch hall and gathered round the lunchbox bin where we placed our lunch boxes in when we arrived. We then ate.
We next travelled up the Rocket Tower, admiring all the galleries. My favourite bit was the water rockets. The Rocket Tower, where the real piece of moon rock is displayed, is incredibly high and has 4 floors. Also, there was a travel-back-in-time area which was set when the first space capsule landed on the Moon (1969) with radio TV's playing and large sofas.
After that it was the end of one of the best days in the world. It took about an hour to get back, and I fell asleep (most people did)! After ages of driving we arrived at school. The day had ended.