Year 6 2 Can Learn 26.01.23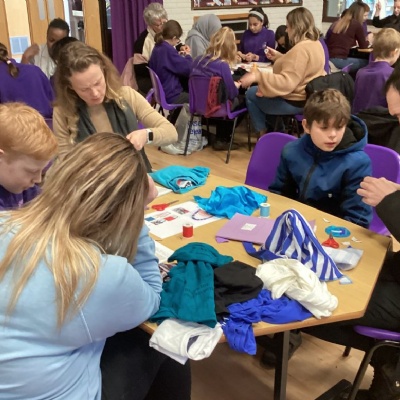 By Miss Tansley, Year 6 Class Teacher and English Subject Lead
On Thursday 26th February, parents and carers of Year 6 pupils came into OWPS to join us for a 'Make Do and Mend' textile and sewing session. This session links to the current topic of Peterborough through the World Wars and how rationing impacted not only food items but clothing too.
Prior to the session, the Year 6 pupils had researched into different clothing designs from the 1940's, they had all practised four different stitching techniques (running, blanket, whip and back) and then designed the item they would like to make. These items ranged from soft toys, to bags, mobile phone cases and hair scrunchies.
The morning was a real success, and it was great to have so many visitors join us.
We had some lovely feedback from parents about the event:
"Always engaging and well-organised. Most importantly, the children enjoyed it and, aside from my lack of sewing skills, so did I."
"The 'make do and mend' session was really enjoyable. It was great to see the creativity and thought process which had gone in to the design and bringing it to life. Very creative and lots of fun had by both myself and my son."
Thank you to all that came.