The New Summer Term Menu is Revealed!
After some tantalising tweets, we can now reveal the brand new Summer Term Menu!
A Colourful and Varied New Menu for the Summer Term
Mrs Anderson, Libby our Catering Manager, has been hard at work with Mr Eardley and Mrs Russell creating a brand new menu for next term to delight the taste buds of all the children at OWPS. Libby said, "I am very excited to see the children try some new things."
On the menu are 13 new main courses, 5 new side dishes and 9 new desserts!
Over 50 of the dishes on the three-weekly rotating menu are cooked here at school.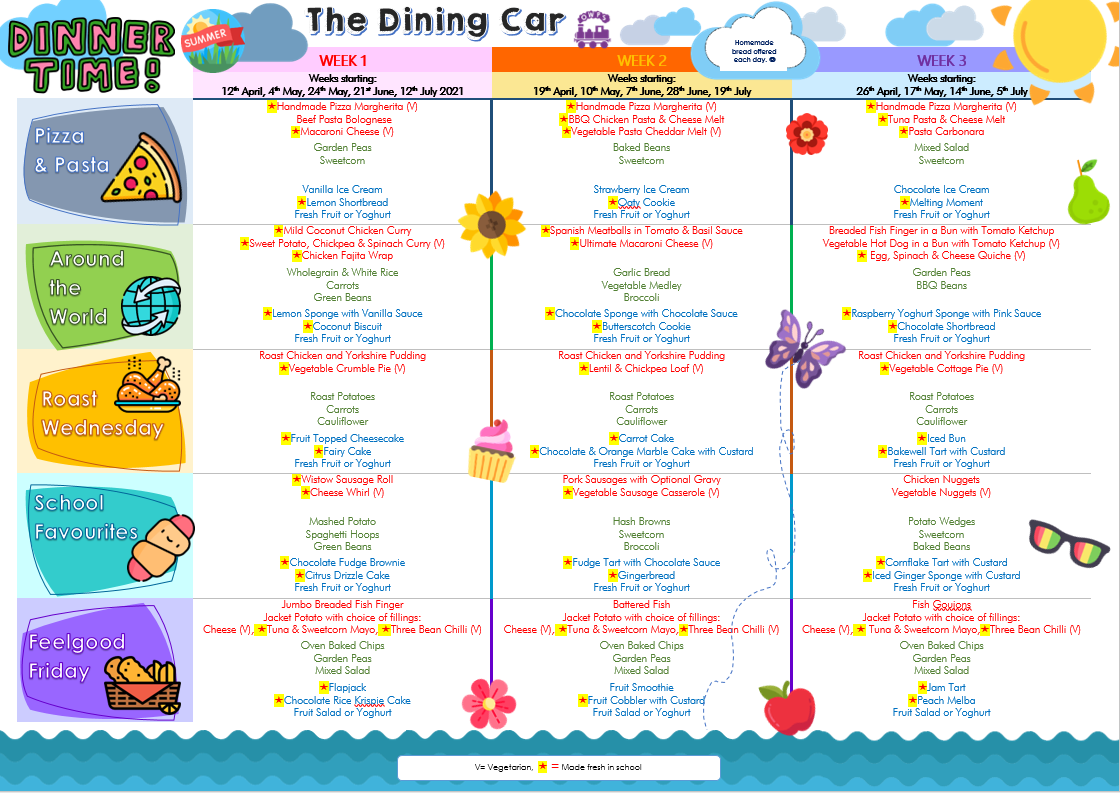 To view a printable copy of the menu, please click here.
A Theme for Every Day!
A combination of tried and tested favourites and fresh, new items make this a menu to please even the most discerning eaters:
Mondays will feature Pizza and Pasta.

Tuesdays will take us All Around the World to try dishes from different countries like Mild Coconut Chicken Curry and Spanish Meatballs in Tomato and Basil Sauce.

Wednesdays will be a Roast dinner.

Thursdays will focus on School Favourites like Wistow Sausage Roll and Chicken Nuggets.

Fridays will showcase those Feelgood Friday meals that put a smile on all our faces at the end of a busy week like Battered Fish and Jumbo Breaded Fish Fingers.
Freshly Made Desserts
Over 50 items on our menu are freshly made in school including our delicious desserts. Next term, desserts that are handmade on the premises include:
Lemon Shortbread
Chocolate Sponge with Chocolate Sauce
Raspberry Yoghurt Sponge with Pink Sauce
Cornflake Tart and Custard
Iced Ginger Sponge and Custard
Peach Melba
Jam Tart
Flapjack
Chocolate and Orange Marble Cake with Custard
Citrus Drizzle Cake
Chocolate Fudge Brownie
Catering for Everyone
We provide a range of dishes to cater for a variety of eating preferences and allergens. Every day, we offer a vegetarian main course option including Vegetable Crumble Pie, Lentil and Chickpea Loaf, Sweet Potato, Chickpea, and Spinach Curry and Vegetable Sausage Casserole.
We also provide information on allergens, which can be viewed here.
And finally...
For more details, please visit The Dining Car. We hope the children enjoy the new Summer Term Menu!
Photo by Ethan Robertson on Unsplash